SOCIAL NETWORK MARKETING

SOCIAL NETWORK MARKETING – THE PRO'S SECRET
Social network marketing is one of the most successful ways to make money on the internet today.
Some already earn significant income, while others do not get paid for their efforts.
If you are already active in social media marketing, there are some simple, but very important, things you need, before continuing into this competitive market.
YOU NEED AN EFFECTIVE AND PROVEN STRATEGY ….
A very enjoyable but smart thing to do is, follow your competition. Just call it "Spying" if you want. But it's the easiest way to discover the reason for their success.
You probably have already encountered the same successful people as they constantly crawl other social networking websites. This is because it is a "social" platform, which requires repeated attention. The word 'social' means 'interact with others'!
When you enter the world of social networking, nobody knows who you are. So part of the technique is to build your online personality and connect with others. So be nice. You can not mix your personal life with your business. When you start social networking on Facebook, you need to create a Business Page or Fan Page and keep it separate from your private life.
Photos of you at a party with a martini in your hand and your friends' comments about how good the party would be, will leave no impression if they stand between your business promotions. Only a few people will buy something from you, if they think you do everything while partying every night. The key is, keep your business and personal life apart, and make yourself a brand! The best way to do this is with a Facebook Fan Page with high conversion.
SOCIAL NETWORK MARKETING WITH VIDEO
There are daily millions of hits on videos on YouTube, and nowadays Facebook. Video is hot today, and many people make huge revenue from placing them. Therefore, it's crucial that you learn how to make good videos that show you. If you do not like being on camera, you should unfortunately get used to it today. And if you do not know how to make a video, you have to learn. There are dozens of websites that give instructions – video marketing has become so important both on social media sites and on websites.
By using video as a platform, you almost work as the old fashioned marketing method, 1-on-1 invitations and demonstrations. As you still know of the demonstrations in shopping malls or parties with friends. The key of 1-on-1 is that people learn to enjoy you. That way they learn to trust you, and they can see you're a truly honest person.
I admit. This is a working point for me. And I will work on it. I promise you, you will be able to follow the evolution.
SOCIAL NETWORK MARKETING IS ADVANCED ATTRACTION MARKETING
Place somewhere a picture of yourself somewhere, but make sure you smile!
People must feel that they know you, who you are and what you stand for.
This is your business and your passion.
Getting leads is a big part of what we do in social networking. Think all day long, 'Leads'. Always think that you are the product. Sounds weird, but it is. Always be aware of the fact that you grow your business and brand!
If you start to understand how to do that, you are ready to generate enough leads. You will run a successful business, and receive many commissions. You can also enroll many people in your team. More than many others can sign up for a whole year. And that simply by creating a system that receives many online social networking applications.
DO YOU WANT TO KNOW HOW NOT TO USE SOCIAL MEDIA, AND HOW YOU DO? ASK YOUR FREE TRANSCRIPT NOW.
After learning how to properly implement social networking, I now have daily contact with interested people. I learned a lot through Tanya Aliza. She regularly has a webinar "My 6 Step Social Media Prospecting & Recruiting Process", which you can sign up for.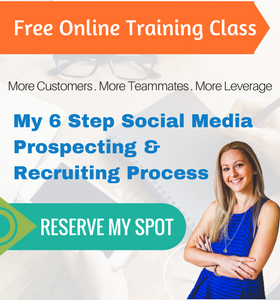 More interesting #Marketing" articles
Have a look at our Business Facebook Page to
Interested in Well-Being? This Facebook Page will give you good information
Share your thoughts