Frozen Yogurt: Healthy or Not?
Find out why frozen yogurt may not be your healthiest snack.
frozen yogurt
Let's break down what you could find in 16oz (450 grams) of it.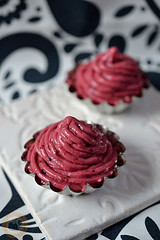 – Unless it's sugar free, a 16 oz serving (450 grams) has 75 grams of sugar, that's about 19 teaspoons!
– 3/4 of the calories in a serving comes from sugar
– A lot less protein, a lot more sugar, and fewer beneficial bacteria than regular yogurt
Fill a bowl with frozen yogurt and you might as well be eating 3 large chocolate covered peppermint patties!
It sounds like a healthy snack option but when you break it down you may realize it's not as low calorie as you think. And, while there are a multitude of fruity flavors, many options lack nutrients.
You can learn more about healthy nutrition by checking out Susan Bowerman's playlist
More Wellness Tips on our Blog
Share your thoughts